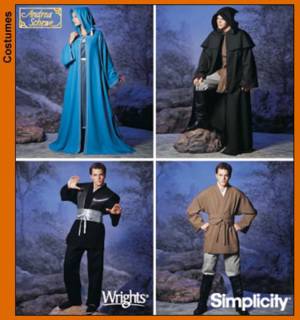 Yay!!! Upcoming project!!! My friend Lauren and her boyfriend Jeff have asked if I can make them reproduction Jedi Knight oufits from the new Star Wars movies. Since there's nothing I love more then sewing on someone else's budget, I of course said yes. :)
We'll start off by making the robe (or cloak) since it's the most expensive part of the costume. The
Jedi Padawan
website has a lot of great information on how to make
Jedi costumes
. I've already done a lot of research, and have decided to go with the Simplicity pattern pictured above. I'm be making view A (it's the one that's shown in the bright blue) but I'll alter the sleeves to make them more full, and change the hood from a point to a rounder shape with no seam down the middle.
Lauren and I have already begun to scour the online fabric stores and are considering different types of wool that might do well for this project. So far,
this fabric
is the leading contender. I'm failry sure the rest of the outfit will wind up being out of a nice linen of some sort unless I can find some really cheap homespun.