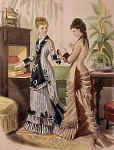 A possible future bustle project
There's something just gorgeous about all the draping and heavy fabric that goes into a pretty bustle outfit. I've looked over a few different patterns (but haven't bought one yet!) that I might try someday, but so far, this is just something on the back burner.!
I already know exactly where I'm going to go for my patterns: the folks at Truly Victorian and the undisputed masters of the buslte! Check out the following page:
http://trulyvictorian.netfirms.com/bustlecat.html
I definitely like the earlier busltle period - I find the later bustle dresses of the 1880's to be more severe. I especially like TV405 (the Vest Basque), the smaller buste pattern TV101, and either TV305 + TV201 underskirt and apron, or a trained skirt TV208. The fabulous folks over at farthingales have a great page devoted to comparing various bustle patterns. A great way to decide which bustle you want to make.
http://www.farthingales.on.ca/bustle_1800s.htm